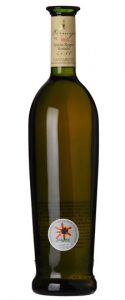 One of our favorite roses so far this year is the Los Bermejos Rosado from the Canary Islands. First "officially" recorded by Pliny the Elder in what would become his editorial guide for future encyclopedias, "Naturalis Historia," (77-79 AD) the Canary Islands, an autonomous community of Spain, consists of 7 main islands, the northern-most and eastern-most being Lanzarote.  It is widely thought that Plato's mythically described "Garden of Hesperidies" was of Canary and possibly Lanzarote-origin.  An island formed nearly 15 million years ago of volacanic origins, Lanzarote claims many solidified lava streams as well as very unique rock formations.
Being a very arid climate with most precipitation reserved for the winter months, vines here are planted in pits nearly a foot deep and 14-16 feet wide with stone walls to protect them from the winds and volcanic ash that gust and swirl through the area.  These pits also help to contain rainfall and dew which draws much needed moisture to the vines necessary to survive during drier months and until harvest.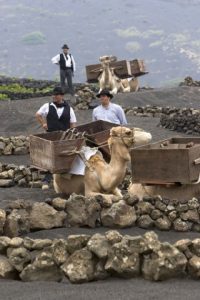 Listan Negro, the black skinned sister of the Palomino grape (often used in sherry) is widely planted across the Canaries and winemaker Ignacio Valdera consistently hits a home run with this  charming and elegant Rosado.  With vines planted in some of the harsher locations on the island he enlists the aid of camels to transport the grapes from vine to facility.  His 2017 rosado is by a far a favorite of the season.  A perfumed nose of blood orange and berries and slight herbs give way to rousing vivacity.  Red currant, slight minerality and stone, even a hint of saltiness make up just a few remarkable dimensions to this wine.  Pair this wine with small plates of fried fish, fruit-y olives, or cured jamón!
(photos from losbermejos.com)