What is Crémant?  Crémant sounds like it could be a signature iced blended drink from your local barista or perhaps some type of sash worn by a dog, but (while it may be those things, too) it's actually a sparkling wine.  Crémant wines are from France but not from Champagne, and are made in the traditional "methode champenoise," meaning they undergo a secondary fermentation in the bottle.  Of the 7 regions in France to produce Crémant , Alsace is by far the most prolific, boasting nearly 50% of the country's total output.
Berghaim, one of the few towns in Alsace to have kept its' fortified walls (which date back to 1311, mind you) is a small city with rich history and a wine growing tradition beginning in the 10th century A.D.  In the 17th and 18th centuries most of the population was wiped out by two wars and the plague, prompting the town to extend invitations to people from other countries to immigrate there, mostly Swiss, Austrian, Hungarian, and German.  From the lineage of these immigrants we find beautiful expressions of Gewurtzraminer, Riesling, and, in this case, an excellent Crémant from the house of Gustave Lorentz.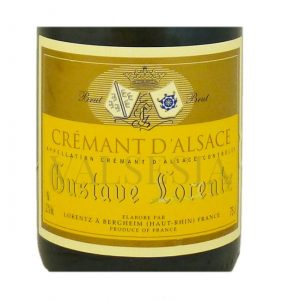 The Gustave Lorentz Crémant d'Alsace is a rich and aromatic example of Crémant's of the area.  At one third Pinot Blanc, one third Pinot Noir, and one third chardonnay this creamy, slightly biscuit-y, lightly fruity wine is nicely textured and round.  At $31.99 (on sale in June for $28.79) , about half the price  of equal quality Champagnes this wine is shockingly delectable for its dollar-point.  Actually, the price to quality ratio here brings to mind its' perfect pairing: fried chicken and caviar.