Greek wines are not very common on the shelves in Minnesota liquor stores and they are often purchased more for being Greek, for a themed dinner or a connection, than for being delicious wines.  It's easy to see why many people don't gravitate towards them like other regions of the world. Greek is a very difficult language to begin with and then you add it unusual grape varieties that are indigenous to Greece but have not become common household terms like the French Sauvignon Blanc or Pinot Noir.  So how do you get familiar with some of the interesting and hard to pronounce grapes and wine? By trying them! This Saturday we will have a white blend of Assyrtiko and Athiri by Domaine Sigalas open at the tasting bar.
Domaine Sigalas was founded in 1991 by Paris Sigalas and a winery was build in 1998 at the northern end of Santorini Island.  Assyrtiko is one of Greece's finest multi-purpose white grape varieties. It was first cultivated on the island of Santorini, where it has the ability to maintain its acidity as it ripens. It yields a bone-dry wine that has citrus aromas mixed with an earthy, mineral aftertaste due to the volcanic soil of Santorini.
In the last 25 years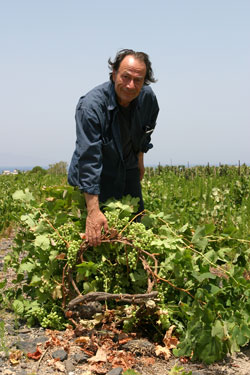 Assyrtiko has been planted throughout Greece where it makes milder and more fruity wines. Athiri is one of the most ancient Greek varieties and also comes from the island of Santorini. This grape gets riper with higher sugar content, less acid, and it is more aromatic. It adds a little roundness and fruitiness to the wine.  Come and taste this wine that comes from tiny and beautiful Island!!