Looking for your next 'spirit-ed' adventure?  Look no further than Amaro!  Amaro, the Italian word for bitter, defies strict categorization yet is steeped in rich history and traditions.  While Amaro can be traced back a millennia to the aromatic root and herbal medicines of Ancient Greece and Rome, it is the friars of Italian abbeys that are considered the originators of these oft 'delicate digestifs.'  Cynar is made from 13 herbs and plants including artichoke leaves and is one of those amaros you will see everywhere but have no idea what to do with it! Here's an example of a low-proof cocktail you can make with Cynar. Substitute the grapefruit juice with orange juice, leave the juice out all together, or use as a bitter-sweet addition to many styles of cocktail!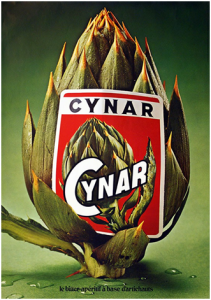 Cynar-grapefruit Spritz:
1 1/2 oz. Cynar
2 oz. grapefruit juice
ice
soda water or prosecco
This cocktail is a perfect patio sipper.  Simple, low-proof, and refreshing.
In a Collins glass, combine  Cynar and fresh grapefruit juice.  Fill glass with ice and top with soda water (or prosecco).  Garnish with grapefruit peel.  Repeat until sunset.  Saluti!